Meet Our Founders
Brian & Mackenzie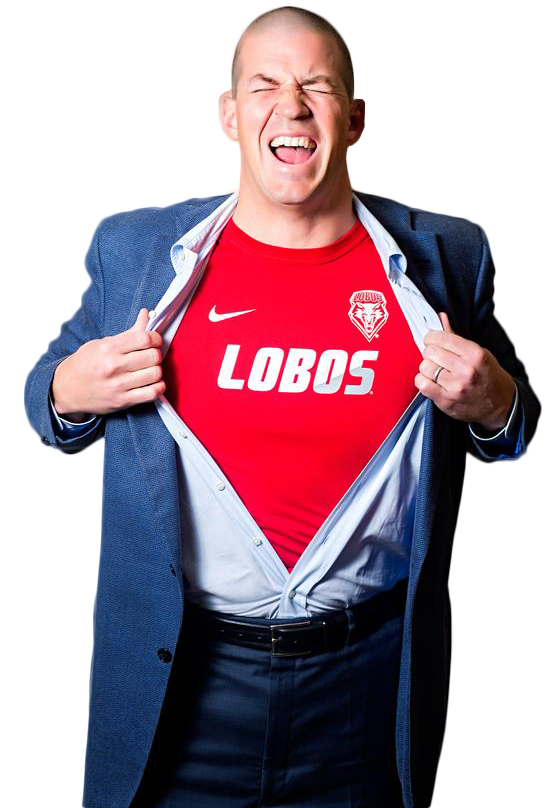 We are both locals, and graduates of UNM's Anderson School of Business. We approach our business as if we'll see you in passing again and again for the rest of our lives because, in Albuquerque, we will. Everyone involved with our organization from customers like you, to the skilled craftsmen and women who build your home, to the loan officer that assists you with financing is a member of our tightly-knit family.We take great pride in the fact that everyone sees themselves as part of our amazing team.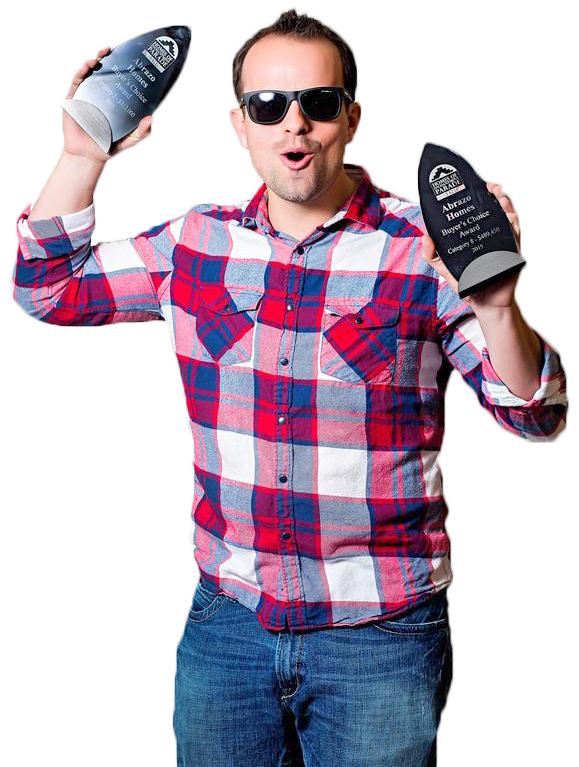 Life is too short to not
Have Fun.
It's our customer-first mentality and ability to laugh at Brian's jokes that make our world so much fun. Some may see our light and fresh atmosphere as a little unorthodox, but we wouldn't have it any other way.
---
Brian McCarthy
Owner, Co-Founder
Mackenzie Bishop
Owner, Co-Founder
Owner, Co-Founder
Brian McCarthy
Brian is the right-brain partner of Abrazo Homes. His tall stature and smooth jump shot make him hard to defend on the basketball court (he is also clutch from the charity stripe... just ask him). Although he is only the 2nd fastest driver at Abrazo Homes, he is by far the fastest on a pair of skis...'if you're not first, your last!'. Oh, and he knows a thing or two about building homes.
Owner, Co-Founder
Mackenzie Bishop
Mackenzie is the left-brain partner of Abrazo Homes. If you have a problem, Mack can solve it. Mackenzie recently settled a bet with Brian and proved he is the fastest around a track in a race car (by .3 of a second)...rubbing is racing. He looks great in a suit and tie but never backs away from an opportunity to roll up his sleeves and get his cowboy boots dirty. He is also a member of the Albuquerque Business First 40 Under Forty Club.
Sales
Blair Bidwell-Duran
New Home Matchmaker
New Home Matchmaker
Blair Bidwell-Duran
The first stop on the 'Abrazo Express' on your new home building journey, Blair is never more than two feet away from her Abrazo-issued communication device at any given moment. When she's not traveling the world, she's connecting people and homes with more perfect matches than e-harmony. Give her a call, you might just find true love.

Watch Some Blair Yo!
Warren Harris
Sales Counselor
Sales Counselor
Warren Harris
Warren was Abrazo Homes' very first hire. With his years of experience and unsurpassed industry knowledge, it would be easy to call him a veteran - but his fresh spirit and freakishly high vertical (you should see him play volleyball) make him fit right into our energetic and youthful culture.
Watch Some Warren Yo!
Larry Stapp
Sales Counselor
Sales Counselor
Larry Stapp
Despite Larry's advanced degree in Human Resources (he has a masters degree?!?), he has never found a situation he cant make light of. His great sense of humor and empathetic approach to service make him a favorite among Abrazo homeowners.

Watch Some Larry Yo!
Jeff McCrea
Sales Counselor
Sales Counselor
Jeff McCrea
Jeff has been sweating through pants at Abrazo Homes sales meetings since 2013. The dude has diabolical discipline. Odds are you'll find Jeff doing one of three things with insane dedication - helping folks get into homes, staying fit, or cheering for the Lobos.

Watch Some Jeff Yo!
Brooklyn Green
Sales Counselor
Sales Counselor
Brooklyn Green
Brooklyn brings a breath of fresh air to the Abrazo team. Her youthful spirit and go-getter attitude allow her to effortlessly get along with just about everyone she talks to.But be careful challenging her to a race, you'll most likely eat her dust behind the wheel of a race car - she's kind of a big deal.

Watch some Brooklyn yo!
Adam Garrity
Sales Counselor
Sales Counselor
Adam Garrity
Although terrible at fishing, Adam's not too shabby with a stick in his hand. The kid has mad skills when it comes to golf, baseball, and hockey. Allegedly, he believes he can beat anyone at Ping Pong too, but we'll believe it when we see it. One thing we do know is that he's great at his job. He genuinely loves to help people, hates being late, and is a sponge in every aspect of the Abrazo process.

Watch some Adam yo!
Construction
Chris Madrid
Production Manager
Production Manager
Chris Madrid
Chris was one of Abrazo Homes' first hires. Over the years, he has built more great-looking homes than Ty Pennington and Bob Vila combined. He did, however, finish last in 'The Ring of Fire Fantasy Football League' and downgraded to 'The Ring of Ice' league and, on top of that, is an avid Chiefs Fan - but no one is perfect right.
PS. Brady still haunts his dreams at night ;-)
Watch prankster Madrid in action
Daniel Flotte
Builder
Builder
Daniel Flotte
Daniel, or "Flo" as we all call him, is an avid outdoorsman. Rest assured, he doesn't mind rolling his sleeves up and getting dirty to ensure your home gets built right. As much as we like the guy, we're still working on getting over the fact that he's a former Aggie and current Cowboys fan.

Watch Some Flo Yo!
Traeger Combs
Builder
Builder
Traeger Combs
Born in Steamboat Springs, this former Nordic Ski Jumper is no stranger to the mountains. Often mistaken for a pellet grill, Traeger spends most of his available free time hunting, fishing, camping, and basically anything that involves the outdoors. When he's not decked out in camo, he's decked out in his work clothes getting down and dirty with whatever Abrazo job that needs to get done - even if that job requires his cicerone expertise ;-) Cheers!

Watch some Traeger Yo!
Seth Wood
Builder
Builder
Seth Wood
If you can't find Seth, he is probably lost outdoors - one of his favorite places to be! Abrazo lost him once to the outdoors but he made his way back to us and gave us a second chance! Seth is one of the hardest-working people you will ever meet - nothing phases him. Some may say his attention to detail is quite "peculiar" 😉

Watch some Seth yo!
Daniel Loy
Builder
Builder
Daniel Loy
This banjo-strumming, outdoor-loving superintendent cares about your home almost as much as he cares about his poncho collection. When he's not on the job making sure your house is built right, you can find him gaming, backpacking, or playing some dope folk-country covers of your favorite punk and pop songs. Whether he's in a hardhat or a T-Swift shirt, Daniel's passion for craftsmanship and his attention to detail shine through in everything he does.

Watch some Daniel Yo!
David Singer
Assistant Builder
Assistant Builder
David Singer
You probably don't want to go head-to-head with David. If he's not swinging a hammer, you can find him swinging fists in the boxing ring, or swinging clubs on the golf course (hopefully not at the same time). He's also a master fisherman, reeling in catches bigger than his biceps. And when it's time to wind down, you'll catch him binge-watching "That 70s Show" or yelling "Yippee-ki-yay!" along with Bruce Willis in "Die Hard". Needless to say, with David, your home is in good hands – or should we say big red gloves.

Jason Renshaw
Builder
Builder
Jason Renshaw
Jason's never met a conversation he didn't like. He's a former bartender, so he knows how to spin a good yarn. His perfect day would consist of working on his car while watching movies about working on cars. His spirit animal is all four of the penguins from Madagascar combined into one –  all the qualities you'd want in a non-flying, espionage-prone builder ;-) Oh, and don't get him started on Timothee Chalamet - he thinks he's totally overrated (gasp!).

Joed Jacquez
Builder
Builder
Joed Jacquez
Meet Joed, the superintendent with a full house of four rowdy boys and a heart full of sports. When he's not wrangling his energetic brood, you can find him hitting the links or coaching his local team to victory. At home, this guy can transform his yard into a pristine paradise with a few strokes of the lawnmower. With his energy, enthusiasm, and love for the outdoors, Joed is the kind of guy who makes every day feel like game day.
Kevin Chavez
Assistant Builder
Assistant Builder
Kevin Chavez
Introducing Kevin, our newest superintendent extraordinaire! He's so new, we're not sure what he's capable of just yet – but we have a sneaking suspicion he's going to be a rock star on the job site. He's got a can-do attitude and a willingness to learn, plus a healthy dose of humor to keep things interesting. We're pretty sure he's secretly a superhero, but don't tell anyone we said that. All we know for sure is that Kevin's ready to hit the ground running and make things happen. So if you see him around the job site, be sure to give him a warm welcome – and watch out for any flying capes!
Office
Rebekah Sultemeier
Design Specialist
Design Specialist
Rebekah Sultemeier
This self-described 'gypsy' has lived everywhere under the sun including Japan! Voted Most Stylish Abrazonian, Rebekah leads customers through the home design process with ease. When she's not helping you design your perfect home, you can find her hiking a nearby trail with her exceptionally talented daughters.

Watch some Rebekah yo!
Leslie Carter
Warranty Concierge
Warranty Concierge
Leslie Carter
If hula hooping was an Olympic sport, this"disco hippie" would have more medals than Michael Phelps. Gracefully handling warranty claims every day is no small order, but Leslie does it with ease and a smile on her face. She commits full-heartedly to our customers the same way she commits to hooping with fire… 100%!

Watch some Leslie yo!
Jeff Peabody
Warranty Coordinator
Warranty Coordinator
Jeff Peabody
Jeff is a rock-climbing warranty warrior. He's always up for a challenge, whether it's scaling a sheer cliff while dodging falling rocks or tackling a tough warranty claim. He's mastered the art of a good old-fashioned high-five and is always ready to dish them out. When he's not manning the warranty hotline, you can find him jamming on his guitar, soaking up some New Mexican sunshine, or chowing down on some seriously delicious tacos while enjoying a refreshing cerveza (or three). And when it comes to pizza, he's not afraid to admit that he's a pineapple-on-pizza kind of guy (we won't judge).
C.K. Scott
Director of Land Acquisition and Development
Director of Land Acquisition and Development
C.K. Scott
C.K. AKA the International Man of Leisure (IML for short) is Abrazo Homes' Swiss Army Knife. There is no job too big, too small, or too dirty for the IML. If a job needs to get done - The IML will do it. It is also worth noting that although he is a terrible basketball player, he has wicked dunk skills on a 6' basket.

CHECK OUT WHAT CK DOES EACH FALL!
Jen Spencer
Sales Coordinator
Sales Coordinator
Jen Spencer
Jen packs a punch! And that's not just the multiple cups of coconut créme filled coffee talking. This super mom has a better closing record than Mariano Rivera and still has time to tuck her kids in at night. From pre-sunrise hot yoga sessions and post-sunset pizza oven welding to weekend camping adventures with the family, we're still not sure how she balances everything so effortlessly.

Watch some Jen yo!
Jessica Schroeder
Money Maestro / HR Gal / Jack of all trades
Money Maestro / HR Gal / Jack of all trades
Jessica Schroeder
There is literally no task that Jess is unwilling to take on if it moves the company forward. We still have been unable to find the outer edges of this wonder woman's comfort zone (and trust us, we've tried). Somehow, this Iowa-native still finds time to balance her checkbook every day somewhere between her CrossFit WODs and book club meet-ups.

Chris Torres
CAD / Permitting
CAD / Permitting
Chris Torres
Little known fact, Chris is the only Abrazo employee with his very own designated parking spot. When he's not ensuring a smooth construction process for your home, he's draining three's and breaking ankles at Riverpoint Sports & Wellness. Legend has it there, he can also bench more than Chris Madrid.

Jeff Borrego
Director of Finance
Director of Finance
Jeff Borrego
"Jefe's Army," as he's known in the Fantasy Football world, may have arguably the most difficult task of any Abrazonian… Keeping Brian's - uhh, we mean the company's spending in check. It's either that or the constant bantering he gets for being a loyal Aggie alum since he is substantially outnumbered by Lobos in the office. Somehow, he still manages to keep us all in check.

ABRAZO MADNESS AS TOLD BY JEFF
Edwina Calderon
Staff Accountant
Staff Accountant
Edwina Calderon
Taos-born, family-of-ten-raised, this dancing diva has red chile running through her veins. Hand her a mic on Abrazo Karaoke Night and she'll hit you with her best shot! She's not the analyst this team wants, she's the analyst this team needs.

WATCH WHY EASTER IS SO SPECIAL TO EDWINA
Joseph Marquez
Lead Drafter
Lead Drafter
Joseph Marquez
Ever wonder what it's like to bike 1,000 miles all across New Mexico? Just ask Joseph! He's checked off just about every trail imaginable. When he's not drafting behind a fellow cyclist, he's drafting behind a computer creating works of art. He often refers to himself as Mack's paintbrush when it comes to bringing a new floorplan to life.

Kevin Vautier
Director of Purchasing
Director of Purchasing
Kevin Vautier
Meet Kevin, awarded shiniest head on the team! He may not be able to hit a golf ball to save his life, but put a shotgun in his hand and he'll give you a run for your money. He's a glutton for sports (literally any and all sport will do!). And if there's a hunting or fishing trip to be had, he's all in. He's got a serious case of wanderlust and will travel to any corner of the world, as long as there's an ocean nearby so he can scuba dive with the fishes. And after a full day of creating magic behind the curtains of our purchasing department, he can be found dominating trivia night at the local breweries, armed with an encyclopedic knowledge of random facts.

Barb Ortiz
Purchasing Systems Administrator
Purchasing Systems Administrator
Barb Ortiz
Not so long ago in a galaxy not so far away, Barb studied the fine art of karate. Although she was the only white belt over the age of ten, she's a black belt when it comes to purchasing. When she's not bouncing at her desk on her office ball chair, she's setting new land speed records on her rollerblades - seriously WATCH OUT!

Watch some Barb yo!
Chrissy Champion-Morris
Design Associate
Design Associate
Chrissy Champion-Morris
Biking, hiking, kayaking - If it's outdoors, Chrissy has her name all over it! As long as she doesn't try to keep up with Barb on the rollerblades, she can typically remain unscathed. When she's not at the offices firing up purchasing orders, she's most likely down the street at Boxing Bear enjoying her favorite IPA.

Jessica Correll
Office Manager
Office Manager
Jessica Correll
Say hello to Jessica, the office manager with a heart of gold! When she's not keeping the office running like a well-oiled machine, she's jetting off to some far-flung corner of the globe. And when she's not exploring new cultures and cuisines, you can find her whipping up a storm in the kitchen, creating culinary masterpieces that would make Gordon Ramsay proud. But Jessica's not all work and no play – she's a social butterfly who loves nothing more than to laugh and have a good time with her friends and coworkers - even if it's at herself. And if you need someone to take care of your furbabies, Jessica's your gal – she's a pro at pet-sitting and will treat your pets like they're her own.

Robin Fullam
Accounting Manager
Accounting Manager
Robin Fullam
Introducing Robin, the accounting manager with a wild side! With five kids, three dogs, a cat, two guinea pigs, two ferrets, ten fish, and three corals, she's a master of the juggling act. But don't think all that responsibility has dulled her sense of adventure – she's a Disney World alum who's also started multiple businesses with her hubby. From online dating to freeze-dried cookbooks to puzzle making, there's nothing these two can't do! And when they're not busy being entrepreneurs, they're hitting up music festivals with the whole family in tow. But that's not all – Robin's also a camping and home renovation enthusiast, and isn't afraid to change up her hair color whenever the mood strikes. And when she's ready to wind down after a long day, she's got just the thing – blasting some loud music from her backyard as the sun sets. So if you're looking for a master of multitasking and someone always up for a good time, Robin's your girl!
Marketing
Sheena Ramos
Chaos Coordinator
Chaos Coordinator
Sheena Ramos
Sheena is a high-performance machine that runs almost entirely on triple shots of espresso and enormous mugs of coffee. If it seems like she is talking fast, it is probably because she is hopped up on Starbucks caffeine. Her excessive discipline is typified by her perfectly done hair EVERY DAY (we've seriously never seen her with a bad hair day).

Abrazo Walks for ALS with Sheena
Shane Austin
Chief Storyteller
Chief Storyteller
Shane Austin
Better known by his aliases; Sugar, Sunshine, Disney, and Mr. Congeniality. Abrazo's "Chief Storyteller" (yes, that's his real title) is a man of many talents. From former professional quarterback to mindset maestro to marketing extraordinaire, you'd be hard-pressed to find anywhere that Sugar isn't naturally talented. Sunshine traded in his cleats for a MacBook and a camera just a few years back - less chance of a concussion in this line of work - and has never looked back. Shane now spends his "work" days documenting the amazing stories surrounding Abrazo Homes. Whether it's our award-winning culture, one of our incredible teammates, our innovative homes, or our valued homeowners, Shane's creative genius will bring the story to life.